What About Missing Teeth and Braces?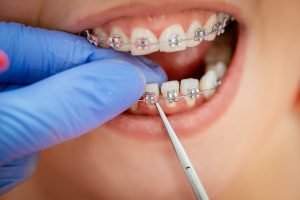 Many people suffer from poor oral health.
Which is unfortunate as oral health affects us both psychologically and physically, and to some extent determines how we chew, talk, grow, enjoy life, and socialise.
And low levels of oral health can contribute to a low quality of life.
And many people, adults and children, suffer from poor oral health due to crooked teeth, misaligned teeth, overcrowded teeth, and poorly spaced teeth.
For these people, orthodontic treatment is needed to address the problems.
Today, one of the most popular and effective orthodontic treatments is braces. But frequently, patients who need braces also suffer from other oral health issues, such as missing teeth.
Which can lead them to the question, "Can someone with missing teeth still have braces?"
In most cases, the answer is "yes". Missing teeth may make it more challenging to adjust braces, but it is still possible to have successful orthodontic treatment with missing teeth.
If a patient needs braces and plans to replace their teeth, it is common practice to do the straightening first, giving the replacement teeth a perfect environment in which to be placed.
Missing teeth can be an embarrassing and physically damaging problem for some patients. They create nooks and crannies for food, bacteria, and plaque, and allow nearby teeth to move.
Here, orthodontic treatment plays a significant role in correcting and preventing this problem from happening or fixing tooth and gum problems that may have occurred as a result of missing teeth.
Braces can be used to close the gap created by the missing tooth, shifting the adjacent teeth to line up with each other.
This is an excellent option for patients who have jaws that are already overcrowded with teeth.
How missing teeth and braces interact
Having missing teeth is an embarrassing problem for some patients, as they make smiles unattractive, which is proven to lower confidence and lead to poor reactions from others.
But missing teeth come with potential oral health issues as well. When a tooth is missing; the nearby teeth have the potential to shift, twist, or cave into the resulting space, and that can lead to severe orthodontic and dental problems.
In such case, braces can have a substantial role in preventing dangerous tooth shifting or correcting tooth and gum problems that may have resulted from missing teeth.
For patients with missing teeth, we have a couple of options. In some cases, braces to close the gap created by the missing tooth; this is particularly true if a patient is suffering from overcrowding.
If the missing tooth is going to be replaced, braces may be designed and installed to leave room for a restoration in the future.
If there isn't enough space for a replacement, braces can widen the existing space, making room for the addition of an implant. Finally, if there is enough space currently, braces can include a 'spacer' to maintain that space.
If you have missing teeth, they and their potential restorations will be taken into account when your braces are designed and installed. Captivate Dental has extensive experience in such cases.
We work with you to create an orthodontic plan that takes into consideration your absent tooth, other dental issues that might exist, and future replacement plans. Typically, braces are used before tooth replacement.
Options after braces
Here are four of the most popular options for tooth replacement after braces:
Fixed bridges bridge the gap between one or more missing teeth. They require healthy, well-aligned teeth to attach to, and braces can help make this possible.
Resin-retained bridges are similar to fixed bridges but are not capable of withstanding as much pressure as fixed bridges.
Removable partial dentures are replacement teeth for a small area of missing teeth. Like bridges, these restorations are best served by being surrounded by
Dental implants are a permanent solution that gives you fully functional and attractive replacement teeth. Braces can help give them just the proper amount of space needed for implantation.
Captivate Dental will work with you to determine the best option for your misaligned teeth, your missing teeth, and how to make those treatments work together to give you're the best, most functional smile possible.
Complete dental care in Moorabbin!
Captivate Dental has a convenient location in Moorabbin near Brighton (near Kingston City Hall and Moorabbin Station).
We give our patients the highest quality care possible, and the information and explanation needed to help them make informed choices.
Our highly-skilled and caring staff provides our patients value through top-notch diagnostic skills and efficient use of the best quality materials.
Captivate Dental offers a wide variety of preventative and cosmetic dental treatment for kids, seniors, and everyone between!
For patients with busy schedules, we offer Saturday hours as well as late visits on Wednesday (by appointment only).
Moorabbin dentist serves local communities in Bentleigh, Highett, Hampton East, Cheltenham and Brighton East.
Free Consultation for Orthodontics
If you want to learn more about braces and what they can do to help missing teeth, call us on (03) 9553 1249. Visit us on the web, or use our convenient online booking page.
We are located at 46 Station Street in Moorabbin.