How to Choose the Right Implant Dentist in Moorabbin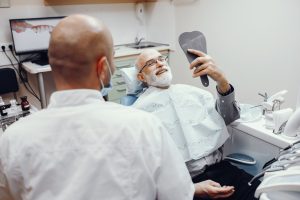 In the history of dental technology, dental implants may be the most significant development since anaesthesia.
Before dental implants, missing teeth could only be replaced by invasive (crowns, etc.) or less functional (dentures) treatments.
Dental implants have finally given dentistry a tooth replacement that is as useful and attractive as natural, healthy teeth.
Since the 1950s, when modern dental implants were first used, they have utterly transformed tooth replacement.
Dental implants are a bit more pricey than other options, particularly when first placed, so you need to know if they are right for you, and at what price.
Captivate Dental is here to help you with advice on how to find a great implant dentist Moorabbin and how to get a fair price.
Who should I see?
Shopping around is a wise strategy, but at the same time, Captivate Dental can't recommend only considering the price.
Talk to several dental offices, so you have an idea of what is offered in your area.
Begin with a list of things you want to discuss. Here are some ideas:
Experience: Extensive experience can mean that the dentist has seen all the permutations and complications that implants have and should know how to avoid or resolve them.
Comfort: Receiving implants takes time. Be sure that your dental office and surgery are as safe and comfortable as possible.
Training: Explore the practice your general dentist or specialist has taken. It is always best to select a dentist who stays up-to-date through training and education.
Price: Prices differ from dentist to dentist, and comparison shopping can help you sort that out. Choosing the lowest price, however, can be dangerous, as low-priced implants can be about dentists more interested in volume than quality.
Ask around: Word of mouth is often a good start. Talk to trusted friends and family members or use the Internet for reviews.
At Captivate Dental, we are confident that your search will lead you to us for your dental implants!
What about the cost?
Dental implants are a complicated procedure involving highly trained experts, specialised materials, and substantial investment in time. So, you have to pay enough to ensure good results.
Let's take a look at a few issues.
Your oral health: This is a big one, implants are not recommended for patients with gum disease or bone loss, so these conditions need to be treated before implantation. Make sure all related treatments are included in your estimate.
Geography: Where you live makes a difference. The cost of office rent, materials, etc., have an impact on price. Attempt to determine an average price for your region
Finally, dental expertise and experience influence the cost. As we've mentioned, you pay, to some extent, for quality.
While 'typical' numbers are guesswork, you can expect to pay somewhere between $1,000 to $3,000 for a single-post implant (just the post). Then you must add the price of the abutment and crown (and bone grafting or other treatments that are needed).
So, as an example, you might pay $2,000 for your single implant installation; another $400 for your abutment; and another $2,000 for your crown, bringing your total cost to $4,400.
As noted above, if you need X-rays, tooth extractions, bone grafts, gum treatment, or other procedures, you should expect additional fees for those procedures.
On average, an Australian can expect to pay from $4,000 to $7,000 per implant.
Relative costs
But remember, the costs of implants tend to go down over time, and implants are exceptionally long-lived. When you take into account the fact that implants often last a lifetime, the price starts to drop over time, particularly when compared to bridges or dentures.
Dental implants also require less upkeep – no threaders, no special cleaning requirements, no threat of breaking, etc. Taking all this into account, the cost of an implant begins to seem much more economical.
But implants have an even more critical "saving" – they save the jawbone against deterioration. When teeth are lost or missing, the jawbone starts to deteriorate. This can lead to additional complications.
The titanium root of an implant, on the other hand, osseointegrates with the bone, literally fusing with it. This leads to bone stimulation and growth, protecting your jaw, gums, and facial structure.
Think of your implants as an investment, not a cost!
Complete dental care in Moorabbin!
Captivate Dental is conveniently located in Moorabbin near Brighton (near Kingston City Hall and Moorabbin Station).
Our competent, caring staff provides value through excellent diagnostic skills and efficient use of the best quality materials.
Captivate Dental offers a wide variety of dental treatment for kids, seniors, and everyone between!
For patients with busy schedules, we offer Saturday hours as well as late visits on Wednesday (by appointment only).
Dental Implants Promotions in Moorabbin
FREE Consultation for Dental Implants
To claim your FREE Dental Implants Consultation in Moorabbin, call us on (03) 9553 1249. Visit us on the web, or use our convenient online booking page.
We are located at 46 Station Street in Moorabbin.