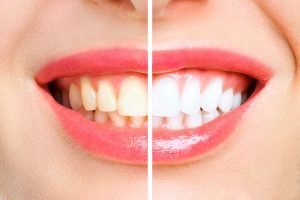 The quickest, easiest way to whiten your teeth is in-office treatment with Zoom Whitening.
Zoom Whitening is the only in-office system that has variable intensity setting, so each treatment can be customised to maximise patient comfort.
This also includes teeth desensitisers to help minimise sensitivity and protect the teeth enamel.
Zoom Whitening is safe, effective and proven to whiten teeth up to eight shades — for brighter, whiter teeth in just one sitting.
Over-the-Counter vs Zoom Whitening
With Zoom Whitening, the treatment process is custom-made to your needs by your Moorabbin dentist, with custom-fitted trays for at-home treatments or the right light intensity and duration in the dental chair.
The Causes of Teeth Discolouration
There are several causes of tooth discolouration and staining.
Some of the common causes of teeth discolouration are as follows:
Drinking coffee, wine and tea
Smoking and the use of other tobacco products
Taking stain-causing medications for a long time
Certain diseases
Neglect of oral hygiene, like inadequate brushing and flossing
The Zoom Whitening Procedure
Zoom Whitening is a safe, pain-free, and affordable in-office teeth whitening procedure.
Zoom Whitening procedure starts by placing a protective barrier for your gums and soft tissues.
Your Moorabbin dentist will apply a Zoom Whitening agent on your teeth.
Once the whitening gel application is done, your teeth are treated with a special light to penetrate the teeth and break down the stains and discolouration.
For enhanced results, the whitening gel is applied for three 15-minute sessions of light activation.
Once done, a fluoride paste-gel is applied to reduce post-treatment sensitivity while strengthening your teeth enamel.
Post-Treatment Practices
Good oral hygiene is very important in maintaining the results of Zoom Whitening.
Just because the teeth already look bright and white, doesn't mean they don't need to be maintained anymore.
Brush your teeth at least twice a day and drink plenty of water to avoid bacteria and food build-up around the teeth.
Floss once daily, as this allows you to reach areas between the teeth and under the gumline that a toothbrush may not be able to.
Zoom Whitening in Moorabbin
If you're looking for a change that delivers results quick, long-lasting results to your teeth in a safe and controlled environment, Zoom Whitening may be for you.
Visit your Moorabbin dentist today!
For more information about Zoom Whitening in Moorabbin, call us on (03) 9553 1249. Visit us on the web, or use our convenient online booking page.
We are located at 46 Station Street in Moorabbin.
Book a Complimentary Consultation
Same day emergency appointments are available upon request
We offer FREE Orthodontic and Implant Consultations
We're a preferred provider for Bupa and Medibank Private
If you are looking for an

affordable dentist Moorabbin

, Captivate Dental is your first choice!

Opening Hours
Monday - Friday
8:30AM - 5:30PM
Saturday - Sunday
CLOSED
Parking/Public Transport
We are 2 min walk from Moorabbin Station
Our onsite parking is free and very easy to access