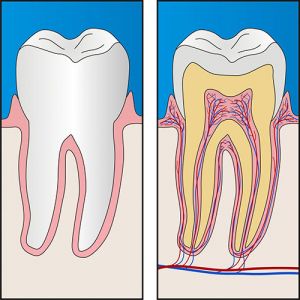 Whose knees do not shiver upon hearing the words "root canal?" Pain and cost come to mind. But do we know what a "root canal" really is?
Root canal treatment, also called endodontic treatment, is a dental treatment that removes infected portions of a tooth and then disinfects the remaining insides of the tooth.
It can also protect the tooth from future complications.
It is performed on the pulp of the tooth, which is in the root canal.
The Root Canal Treatment Procedure
Root canal treatment Moorabbin is performed in three steps, and it takes between one and three sessions to complete.
#1 Cleaning the root canal
The dentist removes everything inside the root canal. With the patient under local anaesthesia, the dentist Moorabbin makes a small access hole on the surface of the tooth and takes out the diseased and dead pulp tissue, using very small files.
#2 Filling the root canal
The dentist cleans, shapes, and disinfects the hollow area, using tiny files and irrigation solutions. Then, the tooth is completely sealed with an adhesive cement.
After root canal treatment, the tooth is dead. The patient will no longer feel anything in that tooth because the nerve tissue and the infection has been removed.
#3 Adding a crown or filling
The tooth will now be more fragile than before. A tooth with no pulp must receive its nourishment from the ligament that fixes the tooth to the bone.
This supply is adequate, but over time, the tooth will become more brittle, so a crown/filling is needed for protection.
Until the crown/filling is complete, the patient should not chew or bite on the tooth. Once there is a crown/filling is done, the person can use the tooth as before.
Treatment usually takes only one appointment, but in the cases of curved canals, multi-canals, or large infections, this could take one or two appointments.
Recovering from Root Canal Treatment
You should avoid biting on hard and crunchy foods until your treatment is complete.
After your final treatment, you should no longer feel any pain in the treated tooth, although it may feel sensitive for a few days after the procedure. Ask your dentist about the painkiller you should take.
Go back to your dentist if you still have pain or swelling after taking painkillers.
In most cases it's possible to prevent the need for further root canal treatment by:
maintaining oral hygiene
not eating too much sugary and acidic food
giving up smoking and using products
Prevention
To prevent future infections, tooth decay, and gum disease, your Moorabbin dentist recommends:
brushing teeth at least twice a day, once before sleeping and once at another time
using fluoride-containing toothpastes
using a soft-bristled toothbrush and replacing it quarterly or when the bristles become frayed
flossing to clean between the teeth and prevent plaque build-up
visiting the dentist for regular dental check-ups and cleanings
avoiding sugary drinks and foods and following a healthy diet
Dental sealants can also prevent decay.
Risks of a Root Canal Treatment
A root canal treatment is done to save your tooth. Sometimes, the damage is too deep, or the enamel is too frail to withstand the procedure, and extracting the tooth is the only way to get rid of the damage.
Another risk is developing an abscess at the tooth root if some of the infected material is not taken out or if the antibiotics aren't working for you.
Root Canal Treatment in Moorabbin
If you're apprehensive about a root canal treatment, you can talk to your Moorabbin dentist about an extraction instead.
This often involves placing a partial denture, bridge, or implant in place of the damaged tooth.
Visit your Moorabbin dentist today!
Root Canal Treatment in Moorabbin
For more information about root canal treatments in Moorabbin, call us on (03) 9553 1249. Visit us on the web, or use our convenient online booking page.
We are located at 46 Station Street in Moorabbin.
Book a Complimentary Consultation
Same day emergency appointments are available upon request
We offer FREE Orthodontic and Implant Consultations
We're a preferred provider for Bupa and Medibank Private
If you are looking for an

affordable dentist Moorabbin

, Captivate Dental is your first choice!

Opening Hours
Monday - Friday
8:30AM - 5:30PM
Saturday - Sunday
CLOSED
Parking/Public Transport
We are 2 min walk from Moorabbin Station
Our onsite parking is free and very easy to access