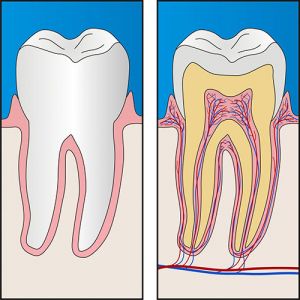 Root canal treatment is used to cure an infection of the root canal. Root canals are long passages inside a tooth adjoining the pulp chamber.
Dental professionals assert that modern root canal treatment is relatively painless as pain management medications will be used.
There have been great innovations in the development of root canal therapy procedures, which can now be performed faster and more efficiently thanks to advances in mechanical rotary instrumentation.
More advanced root canal filling methods has increased success rates.
We possess the expertise that allows more efficient, scientific measurements to be taken of the dimensions of the root canal that must be filled.
After receiving a root canal (especially that of a molar or back tooth), the dentist may recommend that the tooth be protected with a crown.
This is because a root canal procedure must remove some tooth structure from the tooth which may undermine its structural integrity.
A crown may prevent the tooth from fracturing in the years ahead.
Book a Complimentary Consultation
Same day emergency appointments are available upon request
We offer FREE Orthodontic and Implant Consultations
We're a preferred provider for Bupa and Medibank Private

Opening Hours
Mon-Tue: 8:30-5:30pm
Wed: 8:30-8:00pm
Thu-Fri: 8:30-5:30pm
Sat: 8:30-1:30pm
(Open late by appointment on Wednesdays)
Parking/Public Transport
We are 2 min walk from Moorabbin Station
Our onsite parking is free and very easy to access