Patient Care – Anxious and Nervous Patients Moorabbin
Fear and Anxiety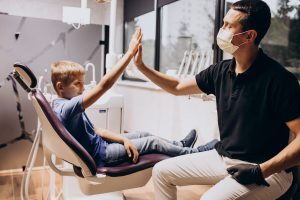 We understand that not all dental experiences are pleasant, and not all practitioners are as gentle and caring as we are.
Unpleasant past experiences can have a devastating effect.
Dental fear is usually triggered by certain experiences, and some of these are:
Loss of control – Some patients feel a loss of control when sitting on a dental chair and find it overwhelming when a dentist works inside their mouths. They usually associate the feeling with helplessness or being trapped.
Pain – Most people fear going to the dentist out of fear of pain, especially those with a low pain threshold.
Embarrassment – Some patients feel ashamed when dentists look inside their mouths and examine their teeth and gums. Discomfort can also result from the little distance between a patient and dentist during treatment.
Past Experiences – Most people develop fears due to bad experiences in the past. If a previous treatment was painful or resulted in complications, a patient may hesitate about going to the dentist again.
Dental treatments are more advanced now as compared to a few years back.
There are many methods to do things with as minimal pain as possible — from the administration of anaesthesia to surgery.
Your Moorabbin dentist recognises that people have hesitations about going to us, so at Captivate Dental, we continue to do our best in providing a relaxing and reassuring atmosphere for all our patients.
Dental visits are not as dreadful as you think because their goal is to keep your oral health in check.
Visit your Moorabbin dentist today!
Patient Care – Anxious and Nervous Patients in Moorabbin
At Captivate Dental, we will work with you at your pace to ensure that you are aware and are fully in control of what treatment will be carried out.
Our top priority is to put you at ease.
Our experienced staff are dedicated to providing quality care, and we will work with you to ensure you are happy and comfortable with each stage of treatment.
We also have the option to provide happy gas should you need more help overcoming your dental anxiety to ensure you have positive experiences every time you visit Captivate Dental.
For more information about anxious and nervous patients' care in Moorabbin, call us on (03) 9553 1249. Visit us on the web, or use our convenient online booking page.
We are located at 46 Station Street in Moorabbin.
Book a Complimentary Consultation
Same day emergency appointments are available upon request
We offer FREE Orthodontic and Implant Consultations
We're a preferred provider for Bupa and Medibank Private
If you are looking for an

affordable dentist Moorabbin

, Captivate Dental is your first choice!

Parking/Public Transport
We are 2 min walk from Moorabbin Station
Our onsite parking is free and very easy to access