Lost Fillings, Crown or Inlay/Onlay
Lost Fillings, Crown or Inlay/Onlay Moorabbin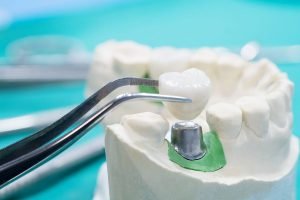 Your dental restorations such as fillings, crowns, inlays, and onlays, are made of durable materials designed to last for a long time.
With proper oral care, they can function like your natural teeth and give your pearly whites the boost they need.
However, despite their sturdiness, there are still factors, including unforeseen ones, that can lead to damage. When this happens, inconvenience and dental pain are sure to happen next.
Urgency and efficiency are needed to save your teeth and restorations. Your local dentist at Moorabbin strives to provide a same-day emergency appointment so can you can get back to your ordinary life, immediately.
Common Reasons for Lost/Damaged Dental Restorations
Natural wear and tear
Every day, your restorations are exposed to episodes of heavy chewing and grinding. Over time, the pressure can weaken and break them.
Abuse
Using your teeth outside their natural functions can damage your dental restorations. Biting down on hard objects such as pen caps is one example.
Tooth decay
Before dental restorations are placed, your teeth, particularly the affected ones, are thoroughly cleaned.
You are then advised to follow techniques to maintain good oral hygiene to help your restorations last longer.
However, neglect in following these steps can result in new cavities that develop under your dental restorations, damaging them.
Poor dental job
Mistakes can happen during the placement of your restorations. Hence, it is very important to choose a trusted dentist.
Your expert local dentist at Captivate Dental is tested and proven to perform reliable dental restorations with no errors.
What to do
To help you deal with your situation before your trip to your Moorabbin dentist, we have listed the first aid steps you should take.
Dental Crowns
If you can find the crown, clean and store it in a clean and safe place.
Apply clove oil on the affected tooth using a clean cotton swab to reduce pain and sensitivity.
Schedule an emergency appointment immediately.
If you can't go to the dentist right away, use over-the-counter dental cement or petroleum jelly to keep the crown in place.
Avoid eating food that requires strenuous chewing.
Tooth Fillings, Inlays/Onlays
Thoroughly rinse your mouth to make sure that there is no debris from dental restorations left.
Apply clove oil on the affected tooth, using a clean cotton swab to reduce the pain and sensitivity.
There is available dental cement in the drugstore, but it is safer to have your dentist repair your restorations.
Incorrect restorations run the risk of being swallowed or inhaled.
Most of the time, swallowed dental restorations will simply pass. But if you accidentally breathe them in, they can infect your lungs.
Dental Restoration Repair at Captivate Dental
Repairing your damaged dental restorations depends on the severity of the damage.
If there's minor damage, your dentist can easily fix it within the day. There are some cases in which a new dental restoration is called for.
Lost Fillings, Crown or Inlay/Onlay in Moorabbin
Dental emergencies are not to be ignored. Your oral health often depends on those first few critical moments. How you take action can determine the result of the situation.
Captivate Dental has a same-day emergency appointment available for your dental emergency. We value time and efficiency as we effectively address your situation.
For patients with busy schedules, we offer Saturday hours as well as late visits on Wednesday (by appointment only).
Same Day Dental Emergency Appointment Available in Moorabbin
For more information on dental emergencies and how to deal with them in Moorabbin, call us on (03) 9553 1249. Visit us on the web, or use our convenient online booking page.
We are located at 46 Station Street in Moorabbin.