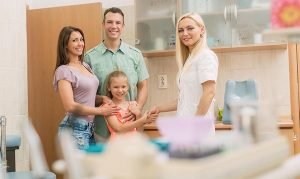 Family dentistry provides services to people of all ages.
Although a general dentist receives extensive education before they begin their work, family dentists take this one step further by specialising in rendering quality care to people of all ages.
Choosing to visit a family dentist allows you to benefit from their experience and excellent service that focus on the prevention and treatment of the most common dental problems that can affect you at particular ages.
Proper Care for the Whole Family
During their studies and training, family dentists gain experience in providing care to both children and adults.
They usually start seeing younger kids at around three years old. Older children and adult need to come in on a regular basis for a teeth cleaning and exams.
This helps identify early problems, while the conditions are more manageable.
Develop a Relationship with Your Dentist
Dental fear and anxiety often arise when a person has not established a relationship based on trust with their dentist.
Family dentistry lets you continue to see the same dentist all throughout your life, which is ideal in helping your exams and treatments.
When each member of your family sees your dentist regularly, they are better able to identify needs and take action quickly.
For example, your teenager may feel more comfortable discussing their oral hygiene practice when they have developed a relationship with a dentist that they have seen since they were a small child.
Receive Preventative Oral Health Care
Oral health care problems should be identified as early as possible so that you can avoid significant problems that contribute to issues such as tooth loss.
A family dentist offers preventative oral health care services and comprehensive exams that can identify problems regarding your oral health.
For instance, you should have your teeth cleaned every six months to help remove the plaque and tartar that caused by tooth decay and gum disease. During these routine treatments, a family dentist might also pick up on other issues such as night-time teeth grinding.
Correct Imperfection in Your Smile
Since the family dentist provides care for all, they also offer assistance to correct and align flaws in your smile that occur throughout each life stage.
For older children and teenager, this may mean that your child needs Invisalign treatment to help correct misaligned teeth or bite.
Adults may benefit from tooth whitening procedures, dental bonding, or veneers that can remove or cover up stains and damages such as chipped teeth.
Restore Lost or Damaged Teeth
Tooth loss is another dental health problem that a family dentist treats.
Although many people think of a missing tooth as an aesthetic issue, one should know that losing a tooth can cause other teeth to move out of place.
You may also have issues with eating and speaking when you lose one of your teeth, and oral hygiene care becomes harder if you have a lost or broken tooth.
Your family dentist will evaluate your mouth structure, gum health, and the condition of your other teeth to develop a personalised plan for tooth replacement.
Dental bridges, dentures, and dental implants are a few solutions that your family dentist can offer to restore your teeth after one or more are lost.
Spot and Treat Early Changes in Your Oral Health
Many oral health problems affect the soft tissues of your mouth. Gum disease is another common problem that can happen, even in young children.
During your dental visits, your Moorabbin dentist will check the health of your gums for signs of developing gum diseases. The signs include redness, bleeding, and deepening pockets around your teeth that trap bacteria.
Treatments for gum disease may involve single tooth cleaning procedures and medications in the earliest stages, or minor oral surgery can be performed to reduce gum pockets and reverse or stabilise the disease so that you avoid bone and tooth loss in the future.
Learn How to Improve Your Oral Hygiene
Family dentists choose to help your family avoid the most severe dental problems by helping both kids and adults to learn how to brush and floss properly.
When you go for an exam, you can ask your dentist to demonstrate how to make sure to get all of the surfaces of your teeth without causing damage during your usual hygiene routine.
For instance, many people brush their teeth too hard or use the wrong toothbrush. Flossing can also pose a challenge if you wear braces or have teeth that fit tightly together.
Moorabbin dentists are experienced in helping you find ways to overcome these challenges so that your teeth stay in the best health possible.
Family Dentistry in Moorabbin
Set your family up for better oral health – go ahead and schedule that first appointment for you and your family!
Captivate Dental is here to answer your family's dental needs. Choose us next time you look up for 'family dentist near me'.
For more information on family dentistry in Moorabbin, call us on (03) 9553 1249. Visit us on the web, or use our convenient online booking page.
We are located at 46 Station Street in Moorabbin.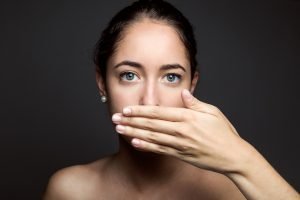 Bad breath is the result of poor oral hygiene habits and can be a sign of an overall health threat.
At Captivate Dental, we can help diagnose your bad breath and provide fast and practical treatment solutions.
Causes of Bad Breath
Poor Diet
One of the main causes of bad breath is garlic and/or onion. What you eat can affect the smell it releases.
Fasting also causes bad breath since the body breaks down fat and releases ketones, which can be foul-smelling.
Poor Oral Hygiene
If you do not brush and floss your teeth well, food particles will be stuck in your mouth, developing harmful bacteria that can cause plaque build-up. The tongue can also be home to odour-causing bacteria.
Poorly-fitted and dirty dentures can also trap odour-causing bacteria and food debris.
Dry Mouth
Dry mouth occurs when saliva production slows down. This can occur if you haven't been drinking enough water or if you have been sleeping for longer than usual.
Strenuous workouts, breathing through the mouth, and certain diseases and medications can also help develop dry mouth.
Unhealthy Lifestyle
Smoking or using tobacco products can also cause bad breath. It causes harm to your teeth and mouth, causing various problems like tooth decay, bad breath, gum diseases, and worse, oral cancer.
A person who suffers from bad breath may not be suffering from bad breath alone. Bad breath may be a sign of other more serious health issues.
Bad Breath Treatment at Captivate Dental
Avoid tooth decay and lower your risk of gum diseases, have a regular oral hygiene routine. Bad breath treatment depends on its cause and severity.
For causes linked to oral health, your Moorabbin dentist will work with you to help you better control your bad breath.
Dental solutions may include:
Mouthwash and toothpaste. If your bad breath is caused by a bacteria build-up, your Moorabbin dentist may recommend you use an antibacterial mouthwash and toothpaste.
Treatment of dental disease. If you have a gum disease, see your Moorabbin dentist right away. Gum diseases can cause gums to recede, leaving deep pockets that fill with odour-causing bacteria.
Your Moorabbin dentist might also recommend replacing old restorations since they become breeding grounds for bacteria.
Bad Breath Prevention
Below are a few steps to help prevent bad breath:
Always keep your mouth clean. Brush your teeth and gums (at least 2 minutes each time) before bed and at least one other time during the day. Do not forget to brush your tongue. Bacteria also grow on the tongue if it is not cleaned properly.
Floss your teeth once a day to remove the food debris stuck between your teeth and underneath the gums.
Chew sugar-free gum. It helps your mouth in producing saliva and stops you from developing dry mouth that can lead to bad breath.
Bad Breath Treatments in Moorabbin
If there are dental problems that causing your bad breath, your Moorabbin dentist can start to treat the causes with cleaning or scraping.
Visit your Moorabbin dentist today!
For more information about our bad breath treatments in Moorabbin, call us on (03) 9553 1249. Visit us on the web, or use our convenient online booking page.
We are located at 46 Station Street in Moorabbin.
Book a Complimentary Consultation
Same day emergency appointments are available upon request
We offer FREE Orthodontic and Implant Consultations
We're a preferred provider for Bupa and Medibank Private
If you are looking for an

affordable dentist Moorabbin

, Captivate Dental is your first choice!

Opening Hours
Monday - Friday
8:30AM - 5:30PM
Saturday - Sunday
CLOSED
Parking/Public Transport
We are 2 min walk from Moorabbin Station
Our onsite parking is free and very easy to access