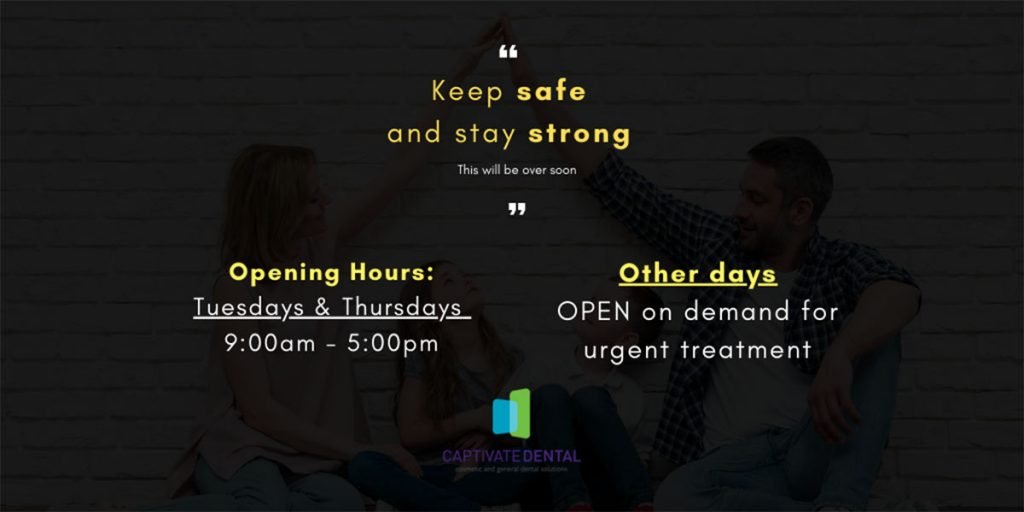 In light of the recent COVID-19 outbreak, Captivate Dental hopes everyone is safe and healthy.
We have made necessary preventive actions in order to protect our staff and patients from the coronavirus.
Opening Hours
Our opening hours are adjusted to be able to cater to your dental needs in these difficult times.
Tuesdays & Thursdays 9am-5pm (if required out of hours available; all by appointment; for emergency's & urgent dental work only e.g. pain, infections, broken fillings etc.. )
Other days – OPEN on demand for urgent treatment.
Infection Control
At Captivate Dental, we make sure all surfaces inside and outside the practice are kept clean and disinfected all the time.
Our patients can trust that we meet the standards set out by the Australian Dental Association, including infection control and cross-contamination protocols.
The safety of our staff and patients is important to us. All staff wear correct personal protective clothing and are fully trained on infection control.
For Patients
If you think you have been exposed to someone who has or is suspected to have COVID-19 and develop a fever and symptoms like difficulty breathing, call 000 for urgent medical help.
For patients who need to come for urgent dental treatments, please use the alcohol-based sanitisers available at the reception.
Should you have any concerns, please do not hesitate to call us on (03) 9553 1294.
We'll get through this together.