Children's Dental Emergencies
Children's Dental Emergencies Moorabbin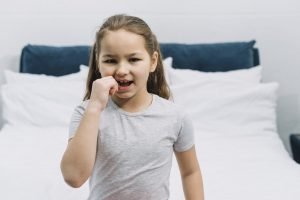 Children are playful by nature. They are also delicate and more prone to injuries than adults.
Their never-ending playfulness makes them unmindful of the things happening around them, causing them to fall, bump into things, and face serious physical injuries.
It is up to us, adults, to look after them and avoid unexpected circumstances.
We can't look after them at all times. We can't control them, and thus, they sometimes suffer injuries from accidents, and these injuries include emergencies involving the teeth.
Children's dental emergencies should be addressed calmly to avoid panicking and worsening the condition.
As adults, we should be knowledgeable of the first aid steps to follow when a child has a dental emergency.
Is it a dental emergency?
How would you know if it's a dental emergency? What would you do to handle an emergency until your child gets to the dentist?
If you are not sure what a dental emergency is, the following questions might help:
Is there bleeding through the mouth?
Is there severe pain?
Are there any knocked-out teeth?
Is there any inflammation in the mouth?
Is there any swelling on the gums?
If your answer is YES to any of the questions above, your child might be experiencing a dental emergency Moorabbin, and he/she needs to see a paediatric dentist immediately.
Read on to learn more about the most common children's dental emergencies and how to manage them at home.
Bitten Lip or Tongue
If your child has bitten his/her lip or tongue badly enough to cause bleeding, clean the bite gently with warm water and press a cold compress firmly against the area to reduce or avoid swelling.
Object Caught in Between Teeth
If your child has something lodged between his/her teeth, use dental floss to remove it gently.
Never use a metal, plastic, pointed or sharp tool to remove the stuck object. If you are unable to remove the object with dental floss, call us immediately.
Broken, Chipped, or Fractured Tooth
If your child has chipped or broken his/her tooth, rinse his/her mouth with warm water. Apply a cold compress to reduce or avoid swelling.
Try to locate and keep the tooth fragment that broke off. Call us right away.
Knocked-Out Tooth
If your child's tooth has been knocked out, locate the tooth and rinse it with water (do not wash with soap), taking care to handle the tooth only by the crown.
Soak the tooth in a container with milk. Call us right away and/or head to Captivate Dental. If you act immediately, it's possible to save the tooth.
Loose Tooth
If your child has a loose tooth, it should be removed to avoid being swallowed or inhaled.
Toothache or Dental Pain
If your child has a toothache, gently rinse his/her mouth with warm water and check the teeth to be sure nothing is stuck between them.
If pain continues, use a cold compress to soothe the pain. Do not apply heat or any kind of topical pain reliever to the affected area, as this can cause damage to the gums.
Children's pain relievers may be taken orally. Schedule an appointment with your Moorabbin dentist right away.
Broken Jaw
If you know or suspect your child has a broken jaw, use a cold compress to reduce swelling. Call us and/or head to Captivate Dental.
A broken jaw may be caused by a strong blow to the head. Severe blows to the head, especially to children, can be dangerous and even life-threatening.
Children's Dental Emergencies in Moorabbin
If your child has a dental emergency, please call your Moorabbin dentist as soon as possible. We will make sure to accommodate your child and provide an immediate solution.
For patients with busy schedules, we offer Saturday hours as well as late visits on Wednesday (by appointment only).
Same-Day Dental Emergency Appointment Available in Moorabbin
For more information on children's dental emergencies and how to deal with them in Moorabbin, call us on (03) 9553 1249. Visit us on the web, or use our convenient online booking page.
We are located at 46 Station Street in Moorabbin.
Book a Complimentary Consultation
Same day emergency appointments are available upon request
We offer FREE Orthodontic and Implant Consultations
We're a preferred provider for Bupa and Medibank Private
If you are looking for an

affordable dentist Moorabbin

, Captivate Dental is your first choice!

Opening Hours
Monday - Friday
8:30AM - 5:30PM
Saturday - Sunday
CLOSED
Parking/Public Transport
We are 2 min walk from Moorabbin Station
Our onsite parking is free and very easy to access