Best Dental Gifts Ideas to Make Your Dad Smile this Father's Day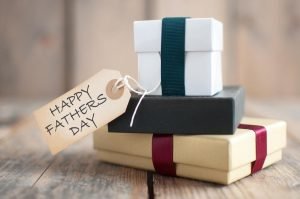 Captivate Dental would like to remind their patients to wish their Dads (or father figures!) a very happy Father's Day on Sunday, September 1st.
Dads deserve bright smiles, but selecting the "just right" gift for them can be difficult.
Shopping for Dads can be difficult – particularly if your Dad already owns plenty of "dad stuff" like barbecue tools, electronic knick-knacks, coffee-cup, ties, and other typical Father's Day gifts.
To help you buy your Dad a gift just as unique as he is, Captivate Dental has compiled a list of dental ideas for the Dad on your list.
You can give him a gift that comes with love and with the promise of improved oral and overall health!
We've arranged out gift suggestions by the type of Dad you have.
The Busy Dad
Dads are responsible for a lot, and their lives can be busy, with lots of time spent on the go.
Make sure your Dad can keep his teeth clean as he goes with something as small as a travelling toothbrush or a complete dental kit.
These give him the opportunity to keep his oral hygiene up wherever he goes.
The Tech-Savvy Dad
If your Dad does like smartphones, apps, computers, and other technological gizmos, surprise him with a toothbrush with Bluetooth capability.
This toothbrush can track his oral hygiene through an interactive app that uses pressure sensors and facial recognition to ensure that your beloved Dad gets his teeth clean.
Some Bluetooth brushes come with neat bells and whistle like setting to choose his dental goals and even control LED colours on the brush!
The Sporty Dad
If your Dad is an athlete or workout warrior, he may be putting his oral health at risk.
Many sports come with the risk of contact and lost teeth. You can protect your Dad by getting him a mouthguard.
Your Dad will love this if he plays footy, skis, or engages in any contact sports. Regardless of what sporting season, this is an affordable and thoughtful gift.
For maximum safety, be sure to get your Dad's mouthguard from a dentist, as it will be custom-made to protect his teeth and jaws, unlike much less effective over-the-counter versions.
The Dad Who Doesn't Smile
Sometimes an unattractive smile can keep your Dad from smiling, laughing, talking, and eating with the confidence he might like.
If so, consider getting him one of the following treatments.
If you can't afford an entire treatment, give your Dad a convenient gift certificate that he can use on whatever he wants.
If Dad has damaged teeth, he might need restorative dentistry procedures. Our dentists can usually repair issues like cracks or even breaks, with dental crowns.
The Dad who hates flossing
Captivate Dental is constantly reminding our patients of the importance of dental flossing, but some dads just don't like flossing or dental floss.
If your Dad is in this camp, consider getting him a Waterpik, which uses pressurised water to clean out the spaces between his teeth.
Get your Dad an ADA approved Waterpik – they have all kinds of cool features like adjustable pressure settings and flossing tips.
When paired with interdental cleaning tools, you can give a gift that supports tooth and gum support!
The green Dad
If your Dad is environmentally responsible, buy him a pack of bamboo toothbrushes.
They are soft-bristled, won't damage tooth enamel or gums, and the charcoal many of them contain helps to fight bad breath.
Because bamboo is a natural anti-microbial, your Dad won't have to worry about bacteria buildup on the handle.
Bamboo toothbrushes come in biodegradable packages, and if you buy a pack of four brushes you've taken care of him for an entire year!
Complete Dental Care at Captivate Dental!
Captivate Dental is conveniently located in Moorabbin near Brighton (near Moorabbin Station and Kingston City Hall).
We provide the highest quality care and allow our patients to make fully informed choices.
Our competent, caring staff provides value through excellent diagnostic skills and skilled use of the highest-quality materials.
Captivate Dental offers a wide range of preventative and cosmetic dental treatment for kids, seniors, and everyone between!
For patients with busy schedules, we offer Saturday hours as well as late visits on Wednesday (by appointment only).
Moorabbin dentist also serving local communities in Bentleigh, Highett, Hampton East, Cheltenham and Brighton East.
GAP FREE Promotions for our New Patients
No Gap Initial Examination, Clean, Fluoride treatment and 2x Xrays for all Private Health Insurance Dental coverage.
Call us on (03) 9553 1249. Visit us on the web, or use our convenient online booking page.
We re located at 46 Station Street in Moorabbin.