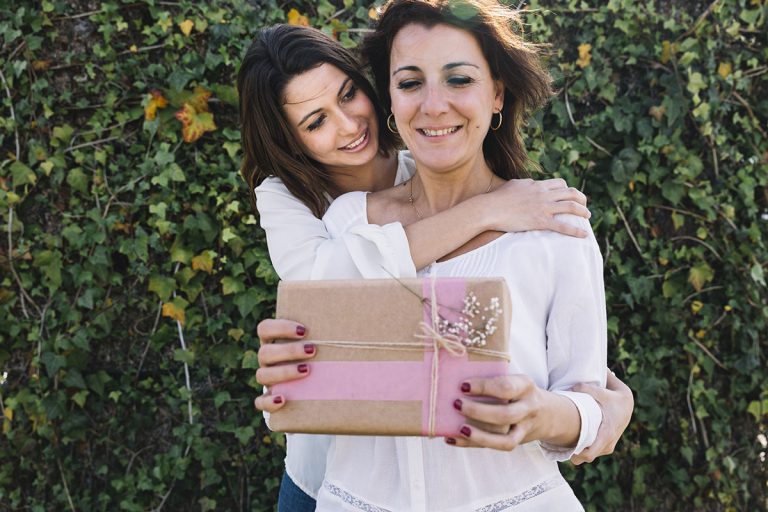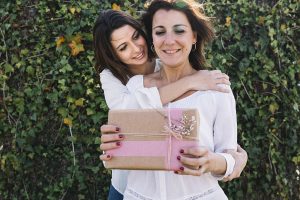 May 12th is the day we recognise all of the wonderful mothers out there by wishing them a Happy Mother's Day.
In recognition of this special day, Captivate Dental wants to do our part to help you recognise your Mom, with a great gift.
And that's not always easy, because Mom has always been the one giving to us, sometimes she says she has everything she needs or is sometimes just shy to come out and tell us what she wants.
But this Mother's Day it's time to get away from the 'traditional' cheesy gifts we give mothers – flowers, chocolate, cards – and give her something thoughtful, helpful, and practical.
This Mother's Day, give your mother a gift that improves her dental health, or permanently improves her smile so that you can see it more often! So do the right thing – get dental for Mom!
Here are a few suggestions from Captivate Dental.
#1 Water Flosser
First off, we'd suggest a water flosser. This is a perfect gift for Moms who don't like flossing or aren't good at it.
A water irrigator simplifies the process of cleaning between the teeth and even makes it a bit of fun.
A flosser/irrigator uses water pressure to dislodge food debris and bacteria between teeth, and then wash it away.
It also helps keep your gums clean and healthy. Flossers are particularly effective if used regularly after a dental cleaning at Captivate Dental.
Water flossers are a perfect gift for any Mom!
#2 Electric Toothbrush
Keeping on dental technology, we recommend you get your Mom an electric toothbrush. Electric toothbrushes:
Help prevent and turn back gingivitis.
Stimulate gums and remove the maximum amount of plaque with less effort.
Are rechargeable.
Works around each tooth to get to those hard-to-reach spots, making your Mom and his dentist happy.
Include overall timers and timers to ensure all parts of the mouth get proper attention
If you really want to upgrade your toothbrush game, get an electric toothbrush with bluetooth.
With this, you connect to an app on your phone that suggests technique improvements, how to whiten your teeth with your brushing, and keeps a record of your oral hygiene.
#3 Mouthguards
For active Moms who play sports or indulge in some kinds of athletics, a custom mouthguard is a great gift.
Your Mom will love it if she plays sports, skis and snowboards during winter, or practices martial arts.
#4 Teeth whitening
Teeth whitening from Captivate Dental will give your Mom a whiter, brighter smile.
At Captivate Dental, we have two options; take-home whitening and Zoom! Advanced In-Office Teeth Whitening in our convenient offices.
Take-home Teeth Whitening Melbourne. If you choose take-home teeth whitening in Melbourne, we will take a mould of your teeth and use it to make your custom fitted trays.
Your Mom will then take these moulds home, fill them with whitening gel, and apply them to her teeth for 15 minutes, daily for approximately ten days, although this depends on case and lifestyle.
After treatment, you should notice that your Moms teeth are 8 shades lighter than before she began teeth whitening.
Zoom! Advanced In-Office Teeth Whitening Melbourne. At Captivate Dental, we have used Zoom! Whitening with great success over many years, and now are happy to be able to offer our patients Zoom! Advanced In-Office Teeth Whitening.
It is a quick, efficacious, and safe way to achieve instant teeth whitening. In most cases, you will notice your teeth will be 6-10 shades lighter than before whitening.
The great thing about Zoom! Advanced is that it only takes one visit. Your Mom walks into our office, receives treatment, and then walks out about an hour later with a stunning smile to share with the world!
A take-home kit can be used to enhance and maintain the results of the in-office Zoom! Advanced procedure if you wish.
More about teeth whitening at Captivate Dental
#5 Snore/Sleep Apnoea Guard
Does your Mom have trouble sleeping or does she snore? If so, it may be a symptom of sleep apnoea. Even if it isn't sleep apnoea, snoring can be very annoying for loved ones.
In this case, think about giving an oral appliance. An Advancing Device (JAD) or Mandibular Advancement Device (MAD) is custom-made by dentists using a plastic-like mould to form to the specific shape of the patient's teeth and mouth.
These appliances battle sleep apnoea and snoring.
Complete Dental Care at Captivate Dental!
Captivate Dental is located in Moorabbin near Brighton (near Kingston City Hall and Moorabbin Station). We provide the highest quality care and enable patients to make informed choices.
Our caring, competent staff gives value through excellent diagnostic skills and efficient use of highest-quality materials.
Captivate Dental offers a wide range of preventative, restorative and cosmetic dental treatment for kids, seniors, and all ages between!
To accommodate busy schedules, we offer Saturday hours as well as after-hour visits on Wednesday, by appointment.
Moorabbin dentist also serving local communities in Bentleigh, Highett, Hampton East, Cheltenham and Brighton East.
Call us on (03) 9553 1249 or visit us at 46 Station Street in Moorabbin.